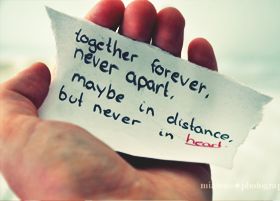 I sit there alone in a corner in the coffee shop and as I am waiting for my order, I see with a pang of envy a couple holding hands and smiling as they talk to each other. How I wish you were here and I could hold your hand as I spoke to you! As I am wishing that you didn't have to be so far away, I get your call and you say, "Hi baby, missing me?". Your voice is music to my ears and I realize the love and understanding and this strange connection that we share despite the distance. Though you are so far away from me, you are so near to me and isn't that what true love is all about?
This story is written for
Lillie McFerrin Writes- Five Sentence Fiction- Envy
.
Labels: Envy, Fiction, Five sentence fiction, Happiness, Happy, Heart, Lonely, Love, Relationship, Smile