I returned home after a long, tiring day at college and since all my submissions of projects and assignments for the semester were now over I decided to relax. Just as I was thinking what to do, my mom who is a school teacher called me out and said, "Please help me make a presentation for tomorrow's class and it is important as the officials are coming for inspection". Though I was tired, I reluctantly agreed as I didn't want to hurt her and I started making the presentation and also teaching her how to use the various features to make the presentation better. She wasn't getting it though I repeated myself many times I was so irritated that I angrily said, "Mom its so simple and you are still not getting so I won't help you any more" and rushed to my room and shut the door. After sometime as I was thinking about the incident, I suddenly realized that when I was learning things as a child, mom had always been patient with me and now when it was my chance to help her I had messed it up so badly and as this realization struck me, I ran out of my room, hugged her tight and apologized and patiently taught her and answered whatever questions she had.
This post is written for
Lillie McFerrin Writes-Five Sentence Fiction-Irritation
.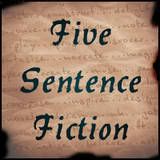 Labels: Daughter, Fiction, Five sentence fiction, Lessons, Love, Mother, Patience, Relationship