She woke up determined to make an all new start and with a resolve to stick to her diet plan and exercise routine. Though she was tired listening to all those comments about her weight, what bothered her more was her inability to fit into some of her favourite dresses. She got off to a great start and did all the exercises that she was supposed to do and followed the diet strictly. Just as she was about to congratulate herself for having had a great start, her eyes fell on it and though her mind told her not to, she was tempted by it all the more. As she ripped off the wrapper and took a large bite of her favourite chocolate, she told herself that this was her reward to herself for all the pain that she had taken that day because in the battle of chocolate versus something, chocolate always won!
P.S.: That is me many times :-P I know many of you will relate to this. :-D
This post is written for
Lillie McFerrin Writes- five-sentence-fiction-conflict
.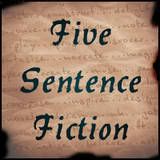 Labels: Chocolate, Conflict, Fiction, Five sentence fiction, Happy, Heart, Temptation