"I am not going to talk to you again as you always fight with me", she said as they looked away from each other and stood there in the balcony lost in their own thoughts. This was their usual routine- talk about something, then fight and then stand without looking at each others faces. Suddenly they saw a shooting star and both of them closed their eyes and made a wish. According to their pre-decided agreement they would communicate with each other through writing when fighting and so they wrote down what they had wished for and exchanged the papers. And there was an instant smile on their faces as both the papers read, "I wish to be with you till my last breath for I love you so much sweetheart".
This post is written for
Lillie McFerrin Writes- Five Sentence Fiction- Wishes
.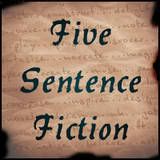 Labels: Fiction, Five sentence fiction, Happy, Love, Wish