She stood there in front of her childhood house thinking about all the wonderful memories that she had there. The place looked as beautiful as before and suddenly her eyes fell on the fence and looked at the house on the other side of it. It was thirty years since she had left this place yet the memories from the past- the beautiful ones with her best friend from that house and the their ugly spat that had caused that fence to be put up came to her mind. She suddenly saw a woman of her age coming out of the house and she recognized that it was her- her best friend. A few initial hesitations, a few tears and hugs later, there they were chatting sitting beside the broken fence as if they had never been apart, as if they were still the 10 year olds that they were back then!
This post is written for
Lillie McFerrin Writes- Five Sentence Fiction- Fenced.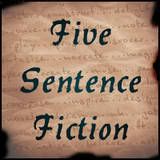 Labels: Childhood, Fiction, Five sentence fiction, Friendship, Memories, Short story